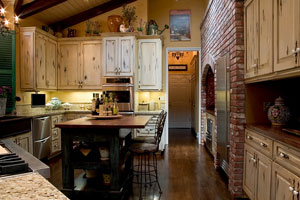 In many homes, the kitchen is often a center of activity, and it is important to consider your needs and those of your family's while designing your new kitchen. Kitchen cabinets, countertops, flooring, and major appliances are four key components of a kitchen design. The integration of these four components with a well-designed work flow will go a long way toward ensuring a successful kitchen remodeling project. It is helpful to develop a master plan before starting such a major undertaking. This plan is often arrived at with the help of an architect, interior decorator, and contractor if one is used. Having a plan helps you to work within your budget and balance the costs of construction materials, cabinetry, appliances, and labor.

The five basic kitchen layouts are one-wall, galley, L-shaped, U-shaped, and wraparound. The size of your kitchen and its traffic patterns, as well as the way your family uses the kitchen, can often dictate its general layout. Window locations and ventilation factors can also influence the kitchen sink and major appliance locations as well as the placement of cabinets and work surfaces. It is also important to do research into the details such as electrical line routing, water pipes, drains, vent flues, and so on. The placement of these utility lines can be a major consideration in the construction and costs associated with a kitchen construction project.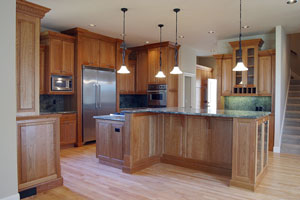 Research and select quality appliances and materials that will fit in with your kitchen plan. Appliance size, style, function, and value are all of prime consideration. When looking for a dishwasher, it is important to look for brands with low energy consumption, a delay timer, and an economy cycle, as this will cut down on water usage. When buying a new refrigerator, it is worth paying for one designed to prevent frost build-up by circulating air inside the freezer compartment. Materials for sinks include scratch-resistant stainless steel as well as solid surface, enameled cast iron, and acrylic. You may choose to install a multi-functional oven or a range that can be free-standing or built-in. Cabinet options include solid wood or wood veneers laminated onto plywood or particle board; cabinets can be finished by staining, distressing, bleaching, or simply painting them to match your kitchen. They can even be custom-fitted with glass doors and special hardware. There are several countertop surfaces to choose from, the most common being plastic laminate and solid surface, with granite being a step up in price. Flooring options can range from expensive (but classy) tile or stone to various grades of vinyl and linoleum, which are cheaper.
Finally, check out potential architects and contractors, and consider where you will buy the needed materials, fixtures, and appliances. Many companies offer warranties and service plans that may be worth considering. Visit Remodeling Your Home, the National Association of Home Builders' consumer guide to home improvement and remodeling, and check contractor references to help ensure a quality job.
With the right plan and research, you should be able to build a kitchen that adds to the value of your home, brings years of enjoyment and good use, and is a great place to hang out with family and friends.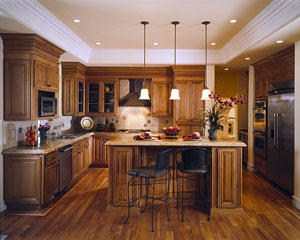 For an inspiring example of the kitchen remodeling process, browse through these kitchen remodeling pictures. On this website, you will find a photo diary, detailing how an early 1960s kitchen was transformed into a modern, luxurious kitchen with granite countertops, refaced kitchen cabinets, a ceiling fan, and new kitchen appliances.
Kitchens Directory
---
Kitchen Remodeling Guide - Kitchen Remodeling Ideas