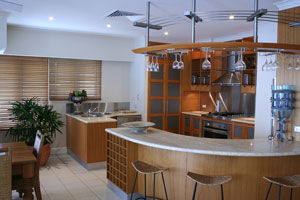 No matter how well it goes, remodeling a kitchen is a challenging, disruptive process. While it will probably take longer and cost more than you expected, the key to a smooth kitchen remodel can be summed up in one word: preparation. You need to plan your new kitchen design, set a budget, choose a contractor, and figure out how to survive the weeks or months your kitchen is out of service. You can visit the KraftMaid Inspiration Gallery and try out the Kitchen Visualizer or use Kraftmaid's free project planner to track and guide the process of your remodeling project. Also look at Kitchens.com for extensive information about designing, planning, and budgeting your kitchen remodel. Unless you are an experienced do-it-yourselfer, you will want to hire a remodeling contractor.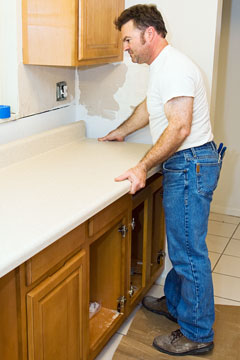 Before any workers set foot in your home, there are several steps you can take to prepare your household for the kitchen remodeling project. If you have a separate freezer, perhaps in the garage, you can prepare some meals ahead of time to eat during the remodel. Then, pack up everything in your kitchen into boxes as though you were moving. In the rooms near the kitchen, remove all pictures and fragile items that could fall or get damaged. Finally, minimize dust and noise by taping plastic over the doorways and openings to the rest of the house.

You will get tired of take-out food, so set up a temporary kitchen somewhere, preferably near a bathroom or laundry room so you have access to a sink. A dorm refrigerator, microwave, and coffee maker will let you prepare at least some basic meals. Of course, you will also want to use your outside grill during nice weather. You can find hundreds of recipes for cooking on your grill at AllRecipes.com.

Stock your temporary kitchen with basic supplies such as microwave-safe dishes, utensils, paper plates and cups, silverware, and a can opener. You can also stock foods such as cereal, granola bars, bread, microwave popcorn, tuna, canned soups, and boxed dinners.

Once the construction starts, children and pets need to stay out of the project area. Not only can they get hurt, but they can also get in the workers' way and slow things down. In fact, planning lots of activities outside the house for yourself and at-home children during the day will keep everyone happy.

Finally, stick with your plan, making as few changes as possible. Changes cost more and usually cause delays.
---
Copyright © Zeducorp.
All rights reserved.
For your convenience, certain links will open in new windows.

Living Through A Kitchen Remodeling Project